Chubu Tokushukai Hospital Hours of Operation
General Consultation Service Hours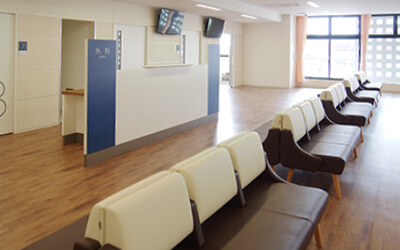 From Monday to Friday
Morning hours 8:30 ~ 12:00
Afternoon hours 14:00 ~ 16:00
Evening hours 16:00 ~ 19:00
Saturday
Morning hours 8:30 ~ 12:00 only
※ Consultation hours may differ depending on the department and circumstances so please confirm prior to your visit.
※ Please check the outpatient schedule for each departments of consultation service hours.
Please check in early morning as much as you can if you are check in to Surgery department.
The patient may be have long waiting time at the afternoon hours due to surgery or examination.
The schedule may change without notice due to such an emergency surgery. We appreciate your cooperation and understandings.
Your First Visit
For your first visit, we may ask you to bring a referral letter or any of medical record including your medications from your primary physicians.
You will be charged 2,200 yen (including tax) as special or specified medical coverage fee other than first visit fee. However, it will be excluded in case transported emergency or who is livelihood recipient and receiving the public expenses.
Under Health Care Insurance System of Japan, each medical activity such as diagnosis, treatments, visit fee, hospitalization, etc. has its stipulated "medical remuneration point" and the unit price for 1 point represents ¥10 (100%) for insured patients. The medical fee is calculated by adding "point" of provided medical services and patients make co-payment according to their enrolled insurance program.
In this hospital, patients without Japanese citizenship and Japanese health insurance will be uniformly charged calculating ¥20 (200%) per 1 point from 1st September 2019 due to maintenance and quality improvement of interpretation services such as signs, documents, etc. for accepting foreign patients.
※Who will be counted for First Visit
Who visit first time at our hospital
Who is not continuously visiting at out hospital (approximately 3 months)
Your Insurance
On the day of your visit, please bring your Japanese National Health Insurance Card or any other form of public certificate and insurance if you have.
Especially if you are insured by the private company, please contact us in advance. If you would like to use international private insurance, you need to inform them and get the pre-authorization from your insurer. Otherwise you have to pay the full amount of medical expenses at the cashier counter and file a health insurance claim after your visit.
Regarding interpretation service and translating documents
Referral letter:
If you have a referral from a hospital outside of Japan, please prepare translated version in Japanese.
Interpretation:
If you are not a Japanese speaker, we ask to bring someone who speaks Japanese with you.
However, in case you desire to have an on-house interpreter, please confirm the availability of an interpreter prior to coming to the Hospital. We will not be able to escort the whole time, yet we will be assisting you with the English language as needed.
Inquiries by Telephone
For more information about outpatient departments or inpatient, please contact us to the number of "For Patient Only".
If you have an appointment already and you have to make a change to your appointment, please use the number of "For Appointment Change Only".